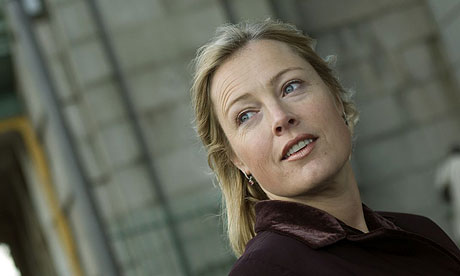 Through a telescope in the boardroom of the Financial Times you can look out over the City of London; beneath this morning's clear blue sky stand the Natwest Tower, the Thames Exchange building and the Gherkin. Boats scud along the river. A man strolls its banks. I count the cranes on the horizon - said to be an indicator of a city's prosperity - and spot more than 20. Despite the news of
global financial meltdown
, there is, a pervading sense of business as usual.
This is a strange moment for economic correspondents; in the past weeks they have been thrust from relative obscurity on to front pages and prime-time television. Already the financial crisis has made stars of the BBC's Robert Peston and Newsnight's Paul Mason, but for many the collapse's true luminary is
Gillian Tett
, assistant editor at the Financial Times, and one of the few people who predicted the current state of economic catastrophe, some two years ago. She sits in the boardroom in a smart boxy jacket, Prada sunglasses pushed back into her hair, making light of the sudden burst of attention. "I think," she laughs briskly, "it's the one moment in history when CDOs and CDSs become sexy!"
Collateralised debt obligation and credit default swaps, Tett's specialist subjects, have long been the dowdy end of finance, so there is a lick of satisfaction to their sudden prominence. "On the one hand, it's gratifying that people realise just how significant all this activity is," she says, "on the other hand it's horrific what happened. I mean we were sitting there a few years ago trying to tell people, 'Listen, if you don't take note of what's going on, the way that finance has changed so fundamentally, there is going to be an accident.'" She says it firmly, the way a teacher might scold you for running in the corridor.